The firm was founded in 1997 by Joe McAvoy and the late Professor John Ward. McAvoy & Associates soon developed a reputation for high quality tax advice. This reputation was enhanced when Dara Burke joined the firm and helped set up a highly-accomplished tax consulting group.
Together the group led the field in Ireland in terms of academic research, for many years authoring Ireland's leading income tax textbook, "McAvoy & Associates: Irish Income Tax", a book that today continues to be recognised as the most authoritative commentary on income tax in Ireland.
Over the years, we have enhanced our specialised service offering to clients to include business advisory and financial planning services. Shane Carroll, leads our business advisory department and brings extensive experience to a variety of business advisory and corporate finance transactions. Liam McAvoy leads our financial planning department where we take particular interest in pension investment and retirement planning.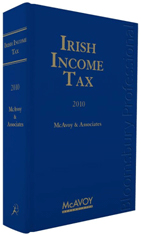 … 'a remarkable work, combining truly comprehensive coverage with meticulous yet incisive analysis'…